Child and Adolescent Psychologist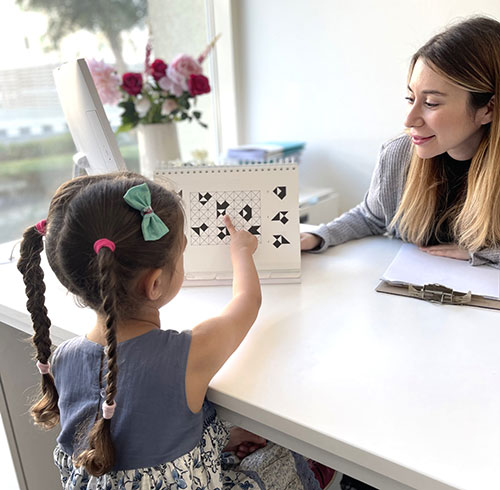 American Wellness Center in Dubai Healthcare City is one of UAE's premier medical centers, is home to leading specialty providers in psychology and behavioral health care. We are proud of our long history of providing compassionate care with each patient's personal needs in mind, and we maintain a firm commitment to putting our patients first.
Who is a Child Psychologist?
A child psychologist has professional training and clinical skills to evaluate and treat the mental, emotional, social and behavioral health of infants, toddlers, children and adolescents. Child psychologists have a thorough understanding of the basic psychological needs of children and adolescents and how their family and other social contexts influence their behavior:
Social and emotional adjustment.
Developmental processes.
Behavioral adaptation.
Child psychologists also have expert knowledge of mental and behavioral conditions that affect children and focuses on the mental health needs of infants, toddlers and teenagers. AWC Dubai has the most qualfied child psychologists.
What conditions can child psychologists help with?
The conditions and situations include:
Abuse sequelae (including physical, emotional and sexual abuse, child neglect).
Anger issues
Coping with a new diagnosis or living with a chronic illness
Coping with divorce or other family issues
Developmental and learning difficulties: (attention-deficit/hyperactivity disorder (ADHD), intellectual disability, autism spectrum disorder, dyslexia and communication disorders).
Disruptive behavior disorders (conduct disorder, oppositional defiant disorder).
Eating disorders (anorexia, bulimia binge eating disorder)
Grief and loss ASSIGN HYPERLINK TO GREIF PAGE CHILD
Identity and self-esteem issues
Including body dysmorphic disorder, gender dysphoria.
Mental health conditions such as, depression, anxiety, phobias, obsessive-compulsive disorder (OCD), post-traumatic stress disorder (PTSD).
Problems in social contexts including separation anxiety
Sleep disorders - insomnia, nightmares, sleep anxiety
Stress related to big life changes.
What are the signs that your child or teen needs to see a child psychologist?
Here are a few general situations and behaviors to look out for that can help you decide if and when your child could benefit from seeing a child psychologist:
Your child is dealing with a big change or a stressful situation, such as bullying, a health condition, divorce or a move to a new city or school.
Your child's mental, emotional and/or behavioral problems seem to be getting worse over time instead of better.
Your child or family has experienced a trauma, such as a death, an accident or abuse.
You notice big personality and/or behavioral changes in your child.
It's difficult for your child to make and keep friends.
Your child's grades are dropping or they're often having trouble with their behavior in school
How can we help?
Our team of psychologists use a wide range of procedures and skills when working with children and adolescents, including:
Assessing psychological, intellectual, cognitive, and behavioral issues with testing and evaluation.
Using interventions such as psychotherapy (talk therapy) and behavior management.
Developing prevention programs, such as preventing bullying, teen pregnancy etc.
Consulting with other professionals and healthcare providers who work with children.
Our team of psychologists, therapists and counselors offer comprehensive care for children with medical problems. For example, they may help children with sleep difficulties or chronic pain or those coping with a chronic illness.
The emotional, mental and behavioral conditions that affect children are often treated differently from adults due to differences in age, cognitive levels and maturity hence child psychologists are well trained and qualified to use different types of therapy techniques based on your child's age and unique situation.
What do we do?
Depending on the age and needs of your child, child psychologists may work solely with you (or guardians) to help with parenting skills or how to best address your child's behavior needs. These therapies include:
Art therapy
Child-centered play therapy
Child-parent relationship therapy
Child anger management therapy
Emotional regulation focused therapy
Parent-child interaction therapy
Cognitive Remediation Therapy
Comprehensive Therapy for ADHD
Behavior training and Therapy
Play Therapy
Mundo Friends Program for children and Teens
Anxiety management Therapy
Contact us at American Wellness Center based in Dubai Healthcare City if you'd like to explore the science of the mind to see if there's a solution which help improve your life.