Pulmonology
---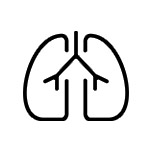 Pulmonology is the area of medicine that focuses on the respiratory system's health. Pulmonologists are medical specialists that diagnose and treat conditions affecting the respiratory system.
They have expertise in the following types of respiratory disorders:
Infectious
Structural
Inflammatory
Neoplastic (related to a tumor)
Sleep apnea
Conditions Treated
Pulmonologists can treat a variety of conditions:
Asthma
Bronchiectasis (when the lungs can't clear mucus)
Bronchitis (inflamed mucous membranes)
Chronic obstructive pulmonary disease (airflow blockage)
Emphysema (when lung alveoli are damaged)
Interstitial lung diseases (affect space and tissue around alveoli)
Occupational lung diseases (due to inhalation of dust, chemicals or proteins)
Obstructive sleep apnea(breathing slows or stops entirely during sleep)
Procedures Performed
Pulmonologists can perform a large range of exams and tests to help diagnose lung-related issues:
CT scan: To view detailed images of bones, muscles, fat organs and blood vessels
Pulmonary function test
Pulse oximetry test: Oxygen saturation levels in the blood
Bronchoscopy: To examine airway for issues in the trachea, lower airways, throat or larynx
Sleep studies: For sleep disorders like sleep apnea
When Should You See a Pulmonologist?
You have difficulty breathing
You have a persistent cough
You cough up blood regularly
Dr. Asif Sattar completed his medical training from the prestigious KMC, Manipal in India. He is UK board certified in Pulmonology/Chest medicine. His training in pulmonology in the UK included working in various renowned centers of excellence, including hospitals in Birmingham, Leeds, and Sheffield.
He moved to Dubai in 2008 and established the Pulmonology department in the first hospital in Dubai Healthcare City. This included establishing and running of busy pulmonary function and sleep lab.
He continues to perform Fiberoptic Bronchoscopy with transbronchial lung biopsy and bronchial lavage. He also consults on patients in the medical wards and the intensive care unit in a hospital at Dubai Healthcare City.
Interests and expertise include investigations and management of
Severe asthma
Lung infection including bronchiectasis
Obstructive sleep apnea
Sarcoidosis
Interstitial lung disease
Lung cancer
COPD/emphysema
Tuberculosis
Board Certifications or Equivalent
Member of the Royal College of Physicians, United Kingdom
Fellow of the College of Chest Physicians (FCCP), USA
Member of the European Respiratory Society
Fellow of the Royal College of Physicians FRCP Edinburgh
Our Clinicians
---
Contact Us
---
Frequently Asked Questions
Answer:
Sometimes. Each insurance company plan is different, so it's imperative you check your specific coverage. Recently, insurance companies have begun expanding coverage for mental health, as employers realize mental health affects the workforce to a greater degree than previously thought. Today, more patients are finding they can get at least a portion of their services reimbursed.

If your coverage brochure or booklet isn't clear, contact your insurance company directly to see what is covered. If needed, we can try to help you figure out what your coverage allows and then budget accordingly.